Do you only sell used equipment?
We sell New, Used, and Refurbished equipment of all types from Cardio to Strength to Functional. Our inventory changes constantly so contact us and we'll help you find whatever you are looking for!
Do you only have commercial equipment?
We do specialize in commercial grade fitness equipment, but we also carry light commercial and residential grade equipment.
What are your hours?
9:00 A.M. to 6:00 P.M. Monday - Friday
10 A.M. to 2 P.M. Saturdays
CLOSED Sundays
Do you buy used equipment?
We do buy used equipment as long as it is in excellent condition. As a rule we only buy commercial and light commercial equipment, since repair parts are not available for many brands of residential units.
Are you open to the public?
Absolutely! Come on in and shop the showroom and warehouse selection. Our knowledgeable staff will be glad to help you with whatever you need from purchasing a barbell to planning a commercial gym and everything in between.
Where do you get all this stuff?
Many national chains lease equipment for 3-5 years, and at the end of those leases the equipment is replaced. We will buy the highest quality off-lease items, bring them in house and clean, repair, and sell them at a greatly discounted price.
How long have you been around?
Carolina Fitness Equipment was started in 2012 in a small storage facility just outside of Charlotte. Our dedication to excellent quality and customer service has allowed us to grow into one of the largest dealerships in the Carolinas.
Do you ship?
Yes. We have shipped fitness equipment across the US and to a dozen countries outside the US.
Do you work on / service / repair equipment?
Yes. Our technicians are certified service providers for most of the major brands of equipment including Life Fitness, Precor, Cybex, Matrix, and others.
Are you on Compliance Depot?
Yes. We are a registered vendor with Compliance Depot - Our Vendor ID number is 836188.
How long til I get my equipment?
We try to insure that each piece of equipment is ready as quickly as possible. Most Clean and Service units are ready in 2-4 weeks, Reconditioned units are 3-4 weeks, and Refurbished units take up to 4-6 weeks. NOTE: We keep the more frequently used parts on hand but sometimes we have to order parts to get your machine in the best condition possible. Ordering parts can add a week or more to the delivery time but we want to deliver the best, most reliable equipment possible. To us, it's worth the extra wait!
What is your warranty policy?
To learn more about our Warranty Policy, click here!
Help! There is a train blocking the road! How do I get around the train?
Here is a comprehensive map to help guide you around the train.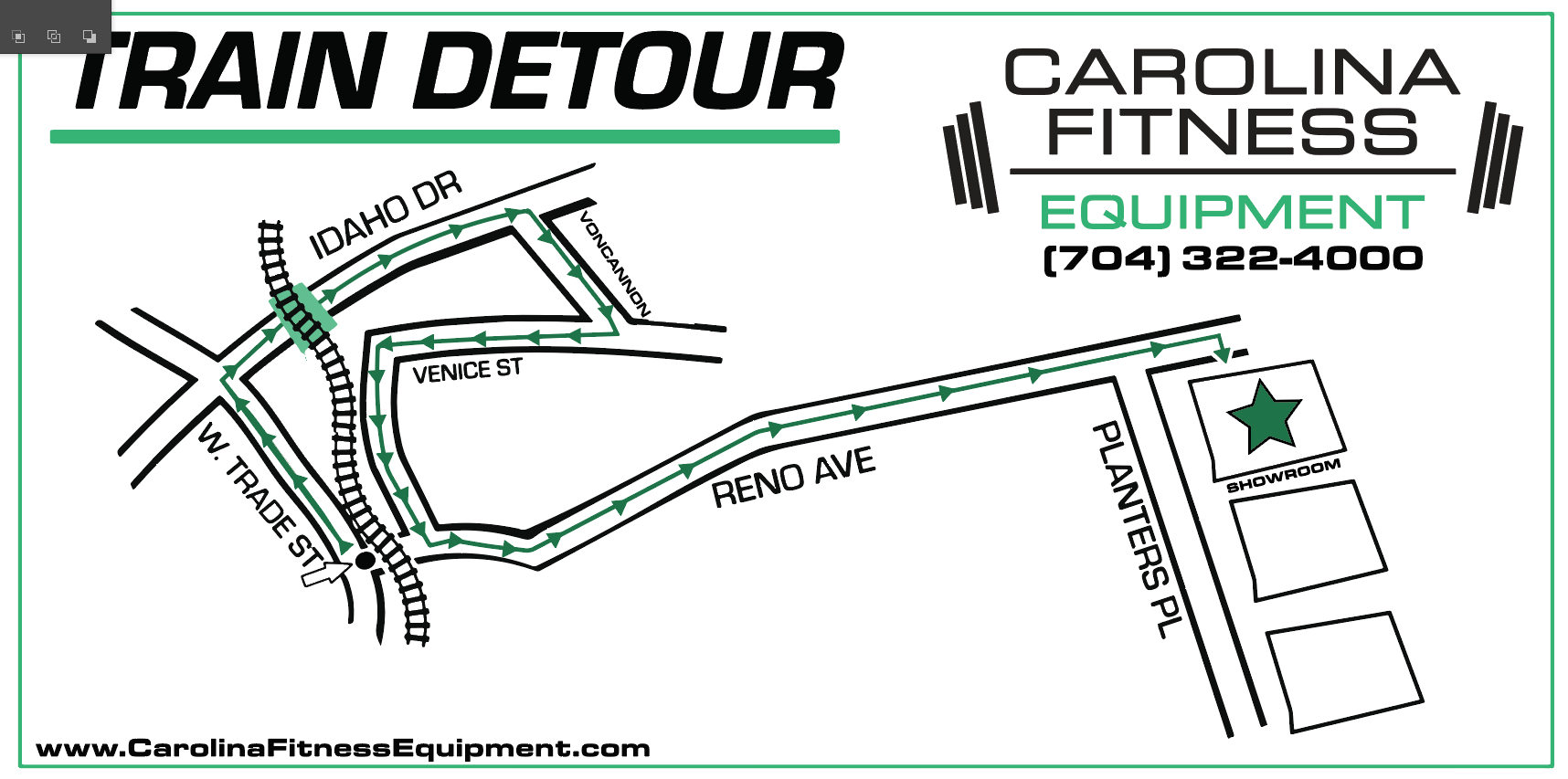 Do you ever have any used Concept 2's?
They are extremely rare but we do get them from time to time. We are a dealer for Concept 2 and we usually have rowers in stock.
Do you repair in house? What is the fee?
Our certified technicians do maintenance and repairs in house and on-site. We will be glad to help you diagnose the problem by phone and get you an estimate for any repairs you may need. You can click HERE to go to our Service Request form.
Why does my equipment have to be seen by a tech?
While we try to find the highest quality used equipment possible, we want to deliver products that we are confident about and that you can rely on. Our technicians clean and test each machine that we sell in order to insure that we deliver on that promise.
Do you have extended warranty on your clean and service?
Cleaned and Serviced units do come with a 30 day in-house warranty [link to warranty page]. We have also partnered with a national warranty provider to offer extended warranties on nearly all of the units that we sell.