Thursday, December 15th, 2022
How to Maintain Personal Fitness Over Christmas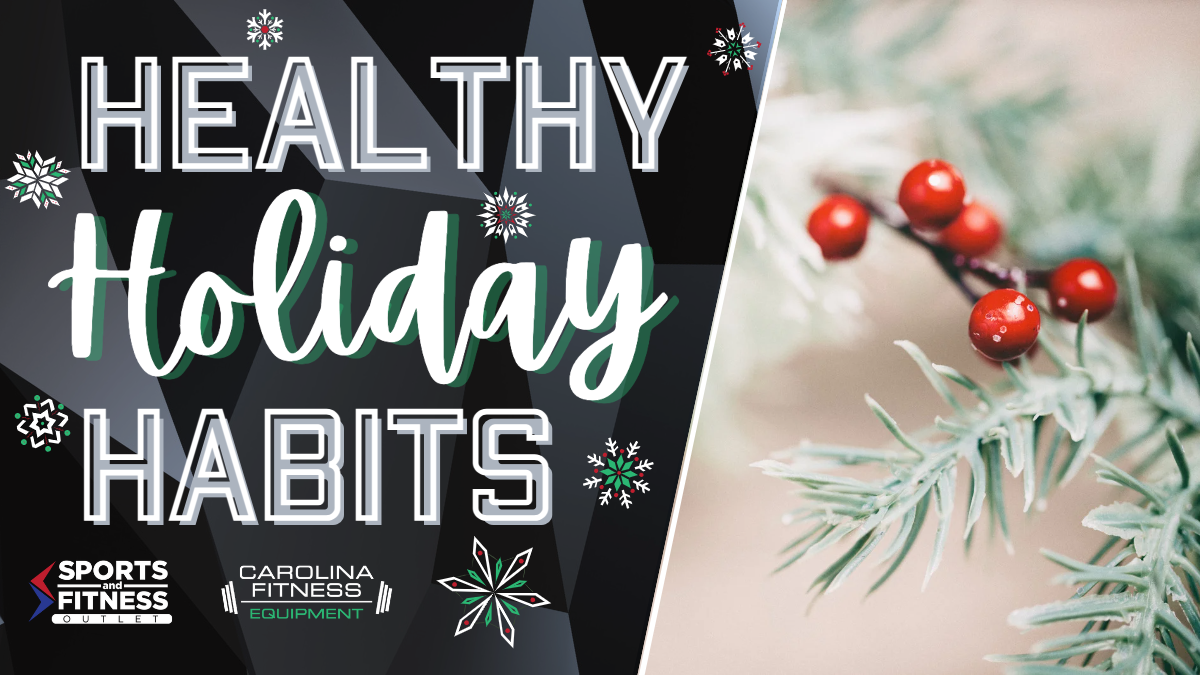 ---
It's beginning to look a lot like FITmas here at CFE! As the holiday season kicks into gear, it's easy to get lost in the cranberry sauce and let personal health and fitness fall to the wayside. Among all the distracting edible goodies, waves of family events, and pricey gift-giving, how are we to NOT feel a bit overwhelmed?
The best way to combat Christmas craziness is to tackle it from a few angles. Creating and maintaining healthy habits can have wonderful benefits that flow into all areas of your life. Actively working on some this December will help you to ensure that you survive and thrive in the joy of the winter holidays. With these tips in your back pocket, there's no need for your fitness routine to come to a screeching halt when December rolls around. Read on to discover three healthy holiday habits to stick to this year, and all years to come!
Eat, Drink, and Be Mindful About it
There's no doubt about it, the holidays bring with them some of the best carb-filled concoctions and boozy beverages we've had all year. It's easy for even the strictest diet plans to get thrown off track in December. But, in order to ease post-feast guilt, remind yourself to observe your eating and drinking habits as they're happening. With more cocktails and treats around than you're used to, temptations will abound for sure—but when you take your next bite or sip just ask yourself if you're really doing it out of enjoyment, or just consuming something because it was in front of you.
It's vital to remember that the holidays are a time for celebration, though! There's no need to completely cut yourself off from enjoying delicious delights. The key is to indulge in moderation. Enjoy the annual treats, but don't overdo it. You can also make the days that come after a little easier by planning ahead or meal prepping so you can get right back on track. All it takes is a little mindfulness to go with your merriness.
Soothe Stress by Saying "No"
Between end-of-the-year work deadlines and holiday to-do lists, it can be difficult to prioritize moments to put ourselves first. But, in order to make it through the season without flipping a lid, these moments of reset and recharge are necessary. It may seem like a far away dream to be able to carve out time for self-care during the busiest of holidays, but persistent high stress is proven to contribute to insomnia, bad mood, and poor memory. No one wants that during the most wonderful time of the year!
We're here to remind you that one of the best things you can do to set aside this crucial time for yourself is to say no when you need to. The desire to give all that you can in the spirit of the season can be tempting indeed. However, pushing past your bandwidth to say yes when you'd rather say no can leave you feeling resentful and overwhelmed, further adding to stress. Your friends, family, and colleagues will understand better than you may expect if you can't take on another task during this busy season. So don't be afraid to say no, and even better, don't shy away from enlisting your guests for help! Ask your loved ones if they are able to handle one aspect of the gathering to take things off your plate if it's getting too full.
Saying yes is important, too, of course—when it comes to allowing time for yourself. When you think about it, whether you're shopping for them or planning a feast with them, the holidays often involve a lot of other people, so some "you time" is essential and shouldn't be too much to ask for. Make it happen this holiday season and we guarantee you'll find yourself grateful for the gifts of self-care you've set up.
Winter-ize Your Workouts
We've already gone over the importance of carving out time to take care of your mind in the midst of holiday stressors. Another important habit is to take care of your body. While it may be easy to let your fitness routine fade to the background the context of full calendars and tons of treats, we're here to encourage you to stick to it.
Exercise is crucial to overall well-being. Maintaining a consistent fitness routine has been proven to improve mood. Movement really is medicine, and it can be an antidote to soothe seasonal anxieties. Securing time to focus on your physical health is integral to warding off any winter blues. Spend early hours at the gym, or wind down your day with a run. Whatever you choose, be sure to keep consistency in mind for the sake of your routine surviving through the holiday.
While keeping intensity consistent is important, don't be afraid to change up your routine a little bit to fit it into your busy schedule. Additionally, keep in mind that HIIT workouts may not be the best choice during this time. Yes, they're the most effective in the least amount of time, but the truth is that these hard-hitting workouts can actually induce a fight or flight response. If your stress level is already peaked with the holidays going on in the background, HIIT exercise has potential to blast anxiety levels through the roof and make it worse. Instead, take this month to experiment with lower impact workouts that target your desired fitness areas. Your body will thank you come Christmas Day!
What are your methods for keeping up personal health during the holidays? Did any of our recommendations work out for you this season? LET US KNOW ON OUR SOCIAL MEDIA CHANNELS. WE LOVE HEARING FROM YOU!
+ IF YOU find this blog post helpful, FEEL FREE TO SHARE A LINK TO THIS ARTICLE WITH YOUR NETWORK OR PEOPLE YOU KNOW WHO MIGHT need it. AN EASY WAY TO DO THAT IS BY USING ONE OF THESE LINKS: SHARE THIS BLOG POST ON FACEBOOK, TWITTER, or LINKEDIN.
Bedosky, L. (2020, July 8). Why you may want to take a break from HIIT during stressful times. What's Good by V. Retrieved December 8, 2022, from https://whatsgood.vitaminshoppe.com/hiit-and-stres...
DeBara, D. (2022, December 6). How to set healthy holiday season boundaries with loved ones. Fitbit Blog. Retrieved December 10, 2022, from https://blog.fitbit.com/set-healthy-holiday-bounda...
Fit Factory Clubs. (2022, November 17). Healthy Habits for the holiday season. Fit Factory. Retrieved December 10, 2022, from https://www.fitfactoryclubs.com/blog/november-2022...
Sadowski, J. (2022, November 25). Combining the joy of movement with the Holidays. HealthWorks Fitness. Retrieved December 8, 2022, from https://healthworksfitness.com/joy-of-movement-wit...
Sadowski, J. (2022, October 28). Tips to beat Holiday Stress. HealthWorks Fitness. Retrieved December 7, 2022, from https://healthworksfitness.com/tips-to-beat-holida...
Unique Fitness. (2022, November 29). Getting in shape before Christmas. Unique Health & Fitness. Retrieved December 8, 2022, from https://www.uniquehealthandfitness.com/getting-in-...

Back to News