Tuesday, October 11th, 2022
Happy to "HALVE a Heart"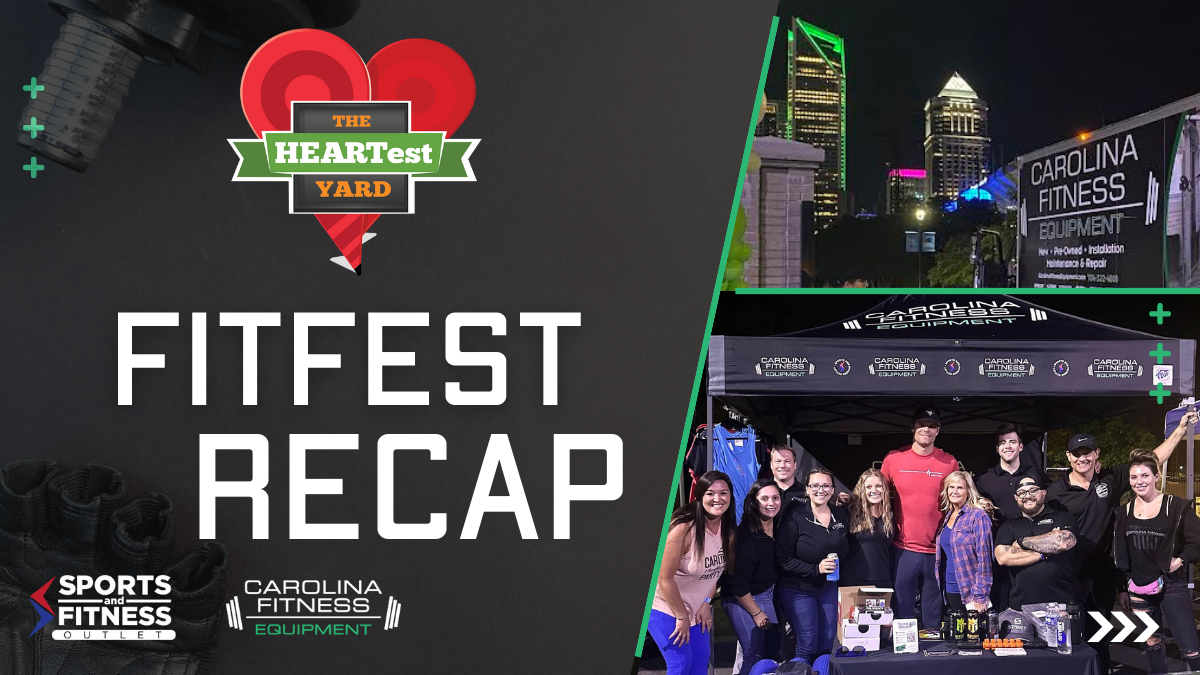 Last Thursday evening, the CFE team packed a truck full of equipment and headed down to the Carolina Panthers' practice field for one heck of an event. We were honored to be attending The HEARTest Yard's FitFest as sponsors, where we got to supervise our own vending tent and even set up a circuit for attendees to use on the main field. It was awesome for us to see all sorts of folks testing out the innovative units we brought and utilizing them before and after the main workout hour. Being able to share and celebrate our passion for fitness in these numbers was something special we won't soon forget!
Because FitFest has left such a cheerful impact on us, we wanted to recap the evening in this week's blog. Continue reading to learn more about The HEARTest Yard's event of the year and the remarkable cause behind it all.
---
About the Cause
Many of us will never understand the deep struggles associated with upending one's life because of a loved one's unforeseen health circumstances. However, thousands of families with children suffering from congenital heart disease experience this every year. The Atrium Health Foundation and the Greg Olsen Foundation, R4R, joined forces to create The HEARTest Yard Fund, which offers support and a range of services at no cost to these families.
Former Panthers pro football player, Greg Olsen, has a near and dear connection to this cause, as his son had Hypoplastic Left Heart Syndrome—meaning he was born without a half of his heart. His son was able to get the help he needed and is a happy and healthy kid now, but Olsen recognized that many people out there aren't able to weather the storm as he had; whether it be for financial reasons or environmental circumstances. He started up his foundation with the aim to ease the blow of such events on less fortunate families.
Then, teaming up with the Atrium Health Foundation, The HEARTest Yard was born with the ultimate goal of preventing children's complications from congenital heart disease and and to improve their long-term health.
---
About the Event
The HEARTest Yard raises money through various events each year, one of which being FitFest held in the early weeks of Fall. Last Thursday, October 6th, the Atrium Dome that serves as the Carolina Panthers' practice field also served as a studio for an hour of fitness for the cause. People signed up for a fee to participate in this four-part workout led by a few of Charlotte's top studios: West Kept Secret, Barre 3, Barry's Bootcamp, and Hilliard Studio Method. When that was finished, a cool down stretch was led by Carolina Sports Clinic. The CFE team was there with our equipment for people to use for pre- and post-workout exercise and we really enjoyed every minute of it.
Following the fitness hour portion of the event, there was an adjacent block party featuring local food trucks and breweries. In addition to perusing the awesome fare, we got to set up our own pop up shop, and mingle with other local businesses who were also attending as sponsors. Any time we get to share who we are and what we do with a bunch of like-minded folks is a good time, and we truly are incredibly grateful to have been able to do that here at this event.
Did you go to fitfest? Let us know about your experience on our social media channels. We love hearing from you!
+ IF YOU liked THIS BLOG, FEEL FREE TO SHARE A LINK TO THIS ARTICLE WITH YOUR NETWORK OR PEOPLE YOU KNOW WHO MIGHT Like IT, too. AN EASY WAY TO DO THAT IS BY USING ONE OF THESE LINKS: SHARE THIS ARTICLE ON FACEBOOK, TWITTER, or LINKEDIN.
Back to News